2021 UCAS applications open for browsing. Applications being accepted from Tuesday 13th October 2020.
Considering a career in teacher training? Based in or around the North West of England? Join us for our two virtual Drop In Evenings, where you can explore programme options, eligibility and meet the SD at Turton team. Simply email sd@turton.uk.com to reserve your place.

Trainee Reflections in Lockdown
Teaching in the online environment has highlighted how supportive the staff at School Direct and Turton, and also fellow trainees, are. You feel like you are part of one cohesive unit, enabling the confidence to be creative and implement new approaches for the benefit of the pupils.





Lockdown was a rollercoaster of emotions, but the highs well and truly outweighed the lows. A computer screen became our new classroom, we adapted, we remodelled and we learnt. Even through a screen you could see those lightbulb moments and gain a greater understanding of your students. 2020-21 the year of resilience and adaptability in both the classroom and the virtual classroom. Without the support of the drama department and the SD team, lockdown would've been a different experience and for that I am truly grateful.
Switching to online learning was a challenge but the support my mentor and department gave me was amazing. I learnt so many new teaching skills and was able to maintain and build upon my relationships with my pupils. I think I have come out the other end a better and more resilient teacher.




When we moved onto virtual learning I felt very overwhelmed because it was unknown territory. However, this worry soon disappeared thanks to the continued support and encouragement from my mentor, subject department, the SD team and the whole team at Turton. The main thing I recall about this experience is that I never felt alone. I received casual messages of kindness from members of the SD team checking in on my well - being and also senior members of staff at Turton acknowledging the influential work trainees had been doing during virtual learning. This really gave me a boost of confidence and was lovely to receive recognition for the work that I had been doing. No matter how minor the problem or concern there was someone at Turton I could turn too, so I am very thankful, grateful and lucky to have experienced virtual learning here at Turton.
During my experiences of teaching during lockdown it was clear how supportive the School Direct team and LJMU are. Lockdown led to numerous challenges, which I would not have been able to overcome with the insight and assistance of the team. I also discovered that through my months of training in class I was fully capable of transferring these skills online to teach via Microsoft Teams. The engagement and interactivity with my students continued to be at a high level, and has made it more exciting to start planning for the return to the classroom.





Teaching throughout lockdown was a very interesting and valuable time for me as a trainee teacher! It allowed me to explore a variety of different ways to teach and taught me things that I can bring into the classroom now we have returned to school! So much support has been available from both the SD team and Turton School itself throughout remote learning. My mentor in particular provided me with a huge amount of support and guidance throughout lockdown and always made me feel reassured. Teaching throughout lockdown has taught me lots of valuable lessons. It has shown me the importance of finding the positives in a stressful situation and always staying resilient which was made possible by the great deal of support that was always provided throughout!


School Direct at Turton is an innovative, school led Initial Teacher-Training programme, based in Bolton, North West England, designed and formed through a strategic partnership between Turton School, Egerton Community Primary School and our alliance partners. Our PGCE with QTS programme will also give you 60 credits towards a Master's degree. We are delighted to be working with our university partner, Liverpool John Moores University who support our aims of working creatively and flexibly with you, to provide the highest quality training.
Our vision is to ensure that you are prepared for the challenges of the classroom and well-equipped to benefit students in the schools in which you will train. We will work collaboratively and proactively with you to achieve high quality teaching and learning through continual professional development. You will work in a school for four days a week and will come back to Turton School on one day for lectures, workshops and professional development training. School Direct at Turton and Liverpool John Moores University share a common vision of teaching and learning, grounded in research and practitioner knowledge. This vision is underpinned by a shared passion and drive to train and develop you to be an outstanding and inspirational teacher who is highly employable, a highly successful teaching professional and leader of learning.
Our Vision for Teacher Training
"We are fully committed to working with schools to ensure the supply of a well-qualified, committed and socially engaged workforce able to take on the challenge of ensuring that all learners succeed. We know that genuine collaboration with school partners is key to the success of our initial teacher education programmes. We take our responsibility of listening to schools seriously and strive to involve our school partners in all that we do, from recruitment and course design and development, to the award of Qualified Teacher Status."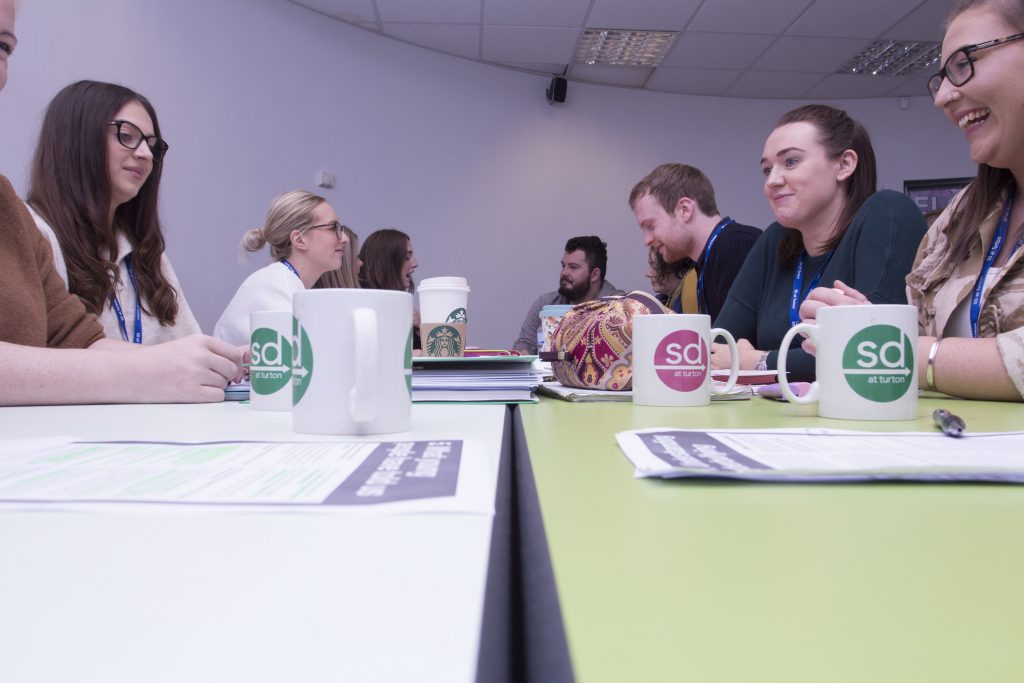 Our North West Partnership Schools
"Throughout this training School Direct at Turton ITT programme, I have felt supported by all the leaders, especially my placement mentor. School Direct at Turton provides excellent training from a range of professionals, who have the experience required to develop and guide teachers for the future of education. My journey has been a long time coming but, it has been amazing! I highly recommend this training provider. It is, in my opinion simply the best!"
"My experience of teacher training with School Direct at Turton has been immensely positive. Throughout the course of the training year, I feel that I have been given valuable guidance and the skills to begin a successful teaching career. The School Direct at Turton team have been highly supportive during my training year and have helped in any way they possibly can. The communication has been fantastic over the course of the year and the team have been very approachable, they have always made the time to talk to me if I have had any concerns. The lectures and cognate sessions were stimulating and helped me to develop my subject knowledge, teaching practice and pedagogy. I cannot recommend School Direct at Turton enough as a training provider, they have gone above and beyond for myself and all of the trainees and I am so grateful for all of their help this year."
"The support given from the School Direct at Turton is outstanding, from contacting the team during the application process through to completing the teacher training I could not have asked for more guidance and support. I selected to complete initial teacher training with SD at Turton due to the excellent reputation and the course was everything I expected and more. The lectures from Liverpool John Moores University combined with the in school experience ensured I am confident moving forward next year as a NQT. Having my teaching observed by experienced staff can seem daunting, however, it is clear that all staff are fully supportive and want to help to create the best teacher you can be. I will always remember the support given from my mentor, how this has developed my practice and cannot thank them enough. I would and already have recommended SD at Turton to anybody wanting to complete teacher training"
"I have thoroughly enjoyed my experience of the School Direct at Turton teacher training programme. I wouldn't be where I am today, preparing to start my first teaching job, without the expert training and guidance from the School Direct team. The School Direct team were supportive throughout the year, and were always on hand to answer any queries that I had regarding assignments and meeting the teaching standards. The lectures and cognate sessions were engaging and strengthened my teaching practice and pedagogy. The weekly mentor meetings allowed myself and my mentor to highlight my next steps in my training which ensured I was continually improving. Each timetable at both my placement schools enabled me to grow in confidence and build positive working relationships with the pupils."
"School Direct at Turton have been the best training providers I could possibly have asked for. The individual support that they give each and every trainee is amazing. They provided all the trainees with regular training sessions every week to develop our subject knowledge across all of the primary curriculum. This helped my confidence grow in the classroom and enabled me to deliver and teach effective lessons that had a great impact on the children's learning and development. I have grown so much not only as a teacher but as a person as well during my training year. Every member of School Direct at Turton have been so helpful throughout, responding to emails quickly, answering any questions we have at any time and guiding every trainee to where we are now. When looking and securing my first teaching job for September, the team at SD at Turton couldn't have been more helpful. They provided video calls over zoom to do mock interviews and to chat to all the trainees about job interviews and what they entail. I couldn't have done it without them!"