Welcome to School Direct at Turton!
School Direct at Turton is an Initial Teacher Training programme – a lead partner within the Liverpool John Moores University partnership.
Our teaching hub is based in Bolton, along with our partnership schools in and around the locality, expanding out to Greater Manchester, East and West Lancashire.
We offer a 1 year full-time training programme via Early Years, Primary or Secondary routes, awarding PGCE with QTS at the end of the course
Applications being accepted –
TUESDAY 10TH OCTOBER 2023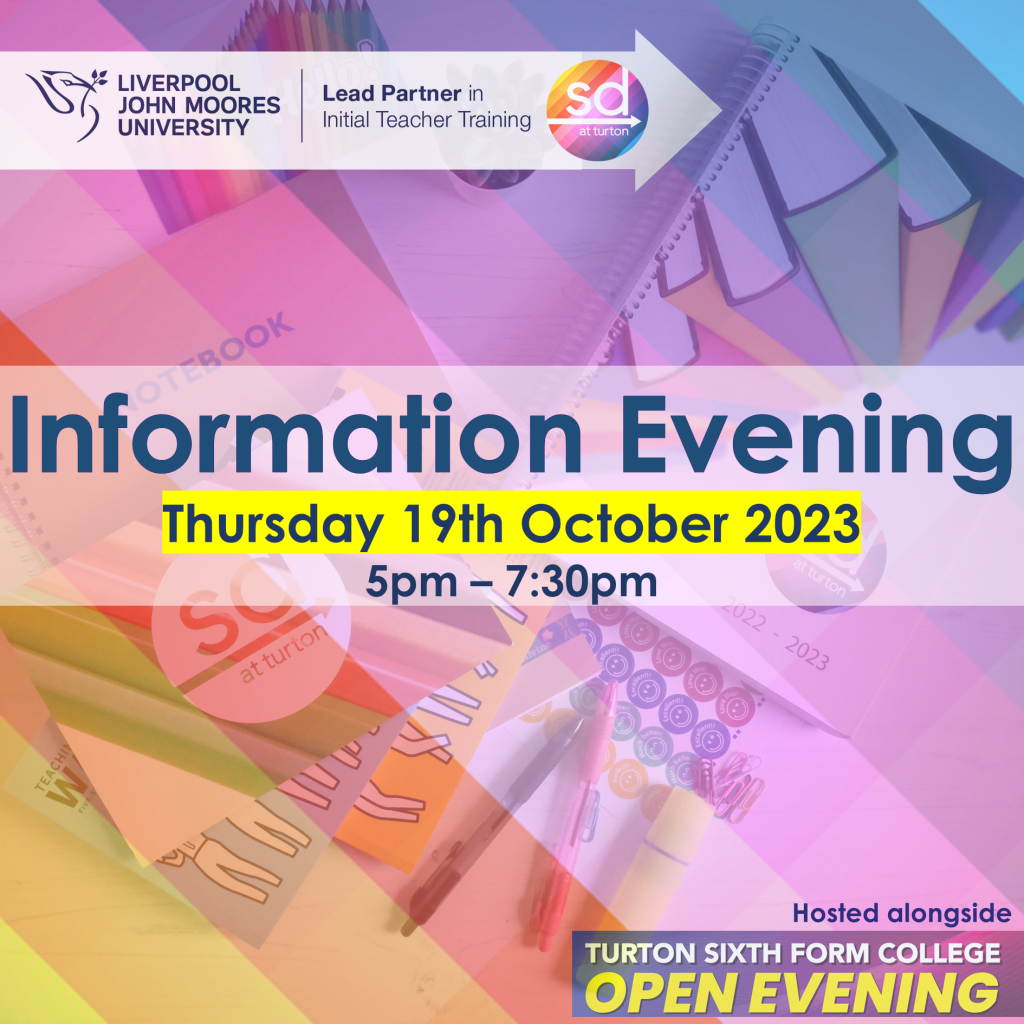 of 2023 student teachers now in employment!
If you're considering a career in teaching, please join us for our first recruitment event of the year!
Our drop in evening is suitable for those considering a career in teaching, with a September 2024 start date.
The team will be on hand to provide you with information about our PGCE programmes, offer guidance on eligibility and discuss the selection process.
Get in touch now to register your interest by emailing sd@turton.uk.com.
'Student teachers benefit from ambitious, well-designed initial teacher education (ITE) programmes'
Student Teacher Reflections 2023
I could not have asked for a better training experience. I feel very fortunate to have worked with so many amazing practitioners throughout my training, who have shaped me into the teacher I am today. Laura Atkinson has been the most exceptional subject mentor and I cannot thank her enough for all of her support this year.




I am most proud of reaching out when needing help and using the advice and support given to continue and progress as a teacher. I have learned so much this year and developed personal skills such as confidence in my own ability and resilience, which has been thanks to the SD team's support. I am really grateful for all the help, advice and support.




I am most proud of my success in developing myself personally and professionally, learning. skills on how to speak publicly and address a class. I am proud of how I have developed confidence to manage a class effectively and stand as the assertive adult in a room.
I have had the most incredible journey this year, facing some of my most challenging days. It has all been worth it in the end as I have developed into a confident professional, with the ability to reflect critically on my practice.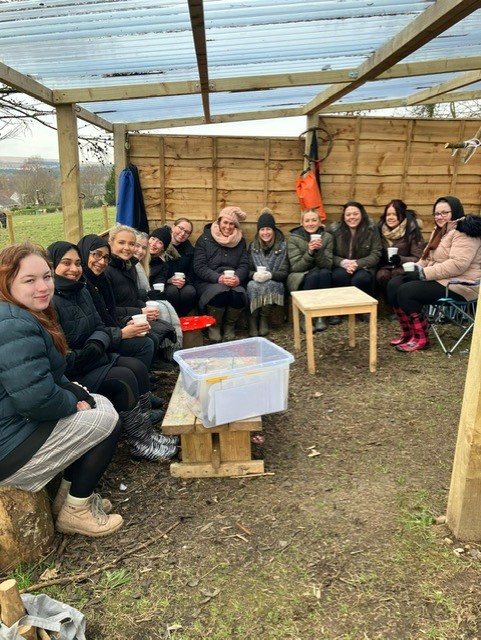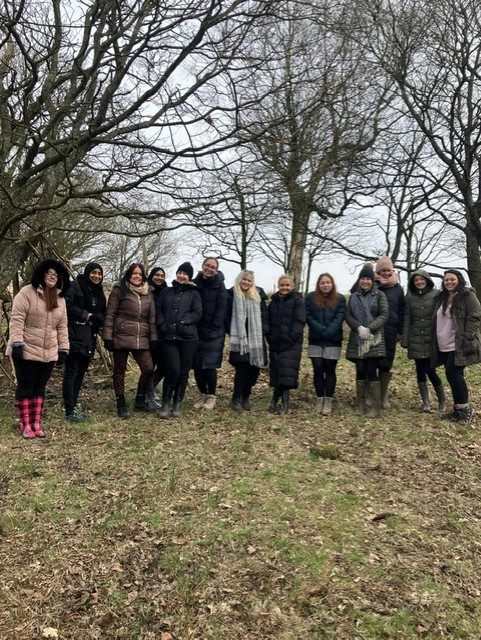 Liverpool John Moores University
We are delighted to be working with our university partner,
Liverpool John Moores University,
who support our aims of working creatively and flexibly with you, to provide the highest quality training.
The
PGCE with QTS programme
gives you 60 credits towards a Master's degree.
We are proud of our reputation and
strategic partnerships
with the university and partnership schools across the North West.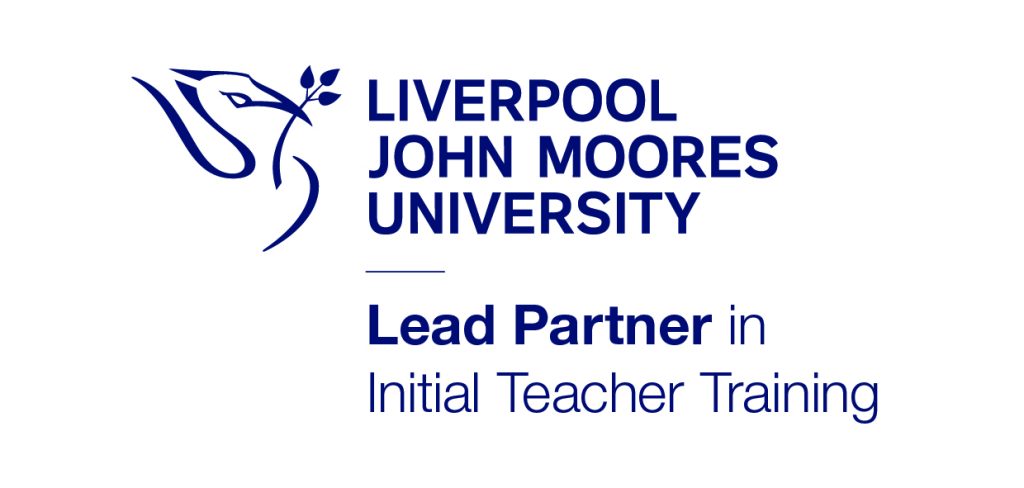 'When we set up our School Direct programme we wanted to work with a
university partner who shared and supported our aims of working creativel
y and flexibly
, to provide the
highest quality training
.
We found exactly what we wanted in the team at LJMU.
Collaboration is a shared value
and together we have designed and delivered a
'first of a kind' teacher training programme
for Bolton. This route and this programme have proven to be an excellent way for schools in
Bolton and across the North West, to work together to identify and grow talented teachers
. We are proud of our partnership and excited to see what the future holds'.
Jo Parr, Programme Director, School Direct at Turton
For more information about how LJMU work in partnership with lead schools across the North West,
click here
.
'Through the centre-based training, and through contrasting school-based placements, trainees gain valuable insights into the barriers that prevent pupils from learning well. Trainees also discuss and debate strategies to address local and national inequalities in education. They learn how to make a positive difference to the education life chances of pupils, including those with additional needs, those from disadvantaged backgrounds and those who speak English as an additional language.' Oftsed, 2023.
'
We are fully committed to working with schools to ensure the supply of a well-qualified, committed and socially engaged workforce able to take on the challenge of ensuring that all learners succeed. We know that genuine collaboration with school partners is key to the success of our initial teacher education programmes. We take our responsibility of listening to schools seriously and strive to involve our school partners in all that we do, from recruitment and course design and development, to the award of Qualified Teacher Status.'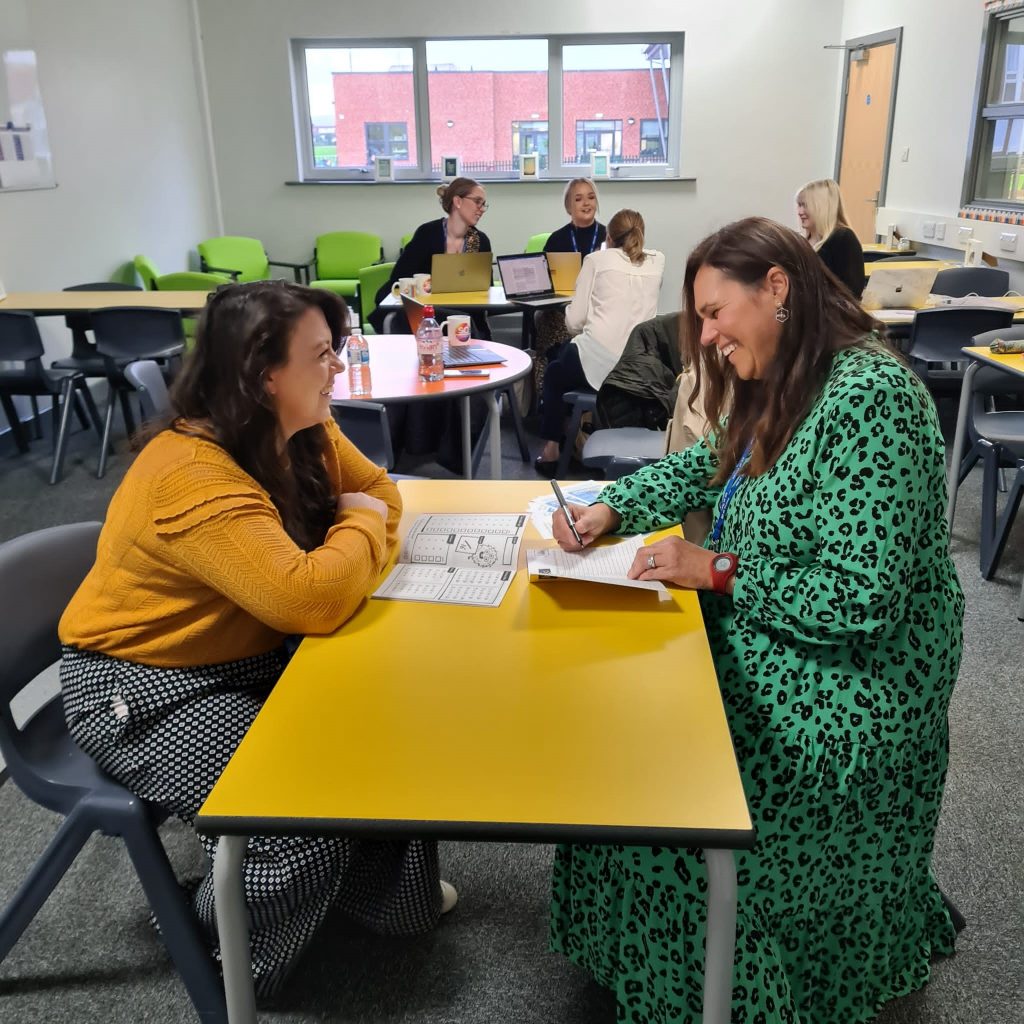 'SD at Turton was the number one provider for me. I chose at SD at Turton because the focus on school-centred learning and the support provided by the expert team made it a natural choice'.
'I have recommended the programme at every opportunity'
'
I cannot fault any part of my experience in my training. I have recommended the programme at every opportunity and in the future will continue to do so. The support I have received has gone above and beyond what I could hope for and I feel like I am leaving the course prepared for the next chapter.'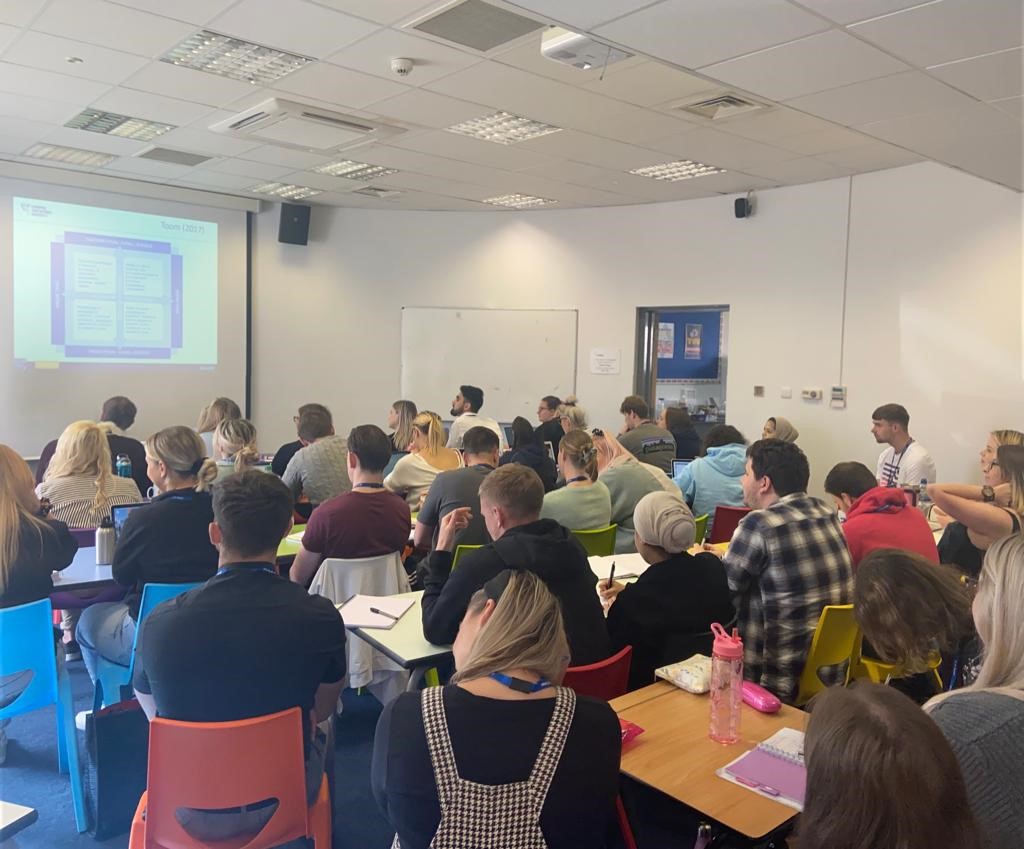 Our Vision for Teacher Training
'When we set up our School Direct programme we wanted to work with a
Our vision is to ensure that you are prepared for the challenges of the classroom and well-equipped to benefit students in the schools in which you will train. We will work collaboratively and proactively with you to achieve high quality teaching and learning through continual professional development. You will work in a school for four days a week and will come back to Turton School on one day for lectures, workshops and professional development training. Liverpool John Moores University and School Direct at Turton share a common vision of teaching and learning, grounded in research and practitioner knowledge. This vision is underpinned by a shared passion and drive to train and develop you to be an outstanding and inspirational teacher who is highly employable, a highly successful teaching professional and leader of learning.
''We wanted to work with a
university provider who shared our common values and LJMU
was an obvious choice for us.
They had a
vision and track record
across primary and secondary phases and like us, had a
desire to be innovative, whilst achieving excellent outcomes for everyone
. We all
recognised the strength that partnership could bring to ITT
. A
shared vision and respectful relationships
drove the development of School Direct at Turton and collaboratively we designed and began to deliver an ITT curriculum in Bolton, in partnership with schools across the northwest.

Here we are seven years later
with a programme that
skilfully melds theory and practice
and a
reputation for ITT
that the whole team is proud of.
'Like many aspiring teachers, I joined the profession because I wanted to make an impact on the next generation. Little did I know that this desire would also extend to the next generation of teachers!
It has been a privilege to work on the School Direct team, to
support talented individuals
who want to join the teaching profession as experts in their field. Following our
rigorous training programme designed by LJMU and School Direct at Turton
, it has been a pleasure to watch, year on year, our
student teachers flourish into skilful practitioners
that
thrive in the classroom
and
truly make a difference
to the lives of students within our community. '
' I came in to teaching as a career changer, after spending 10 years in the Further Education sector. Teaching English was always something that I wanted to do, because for me, strong oracy skills, being well read and being able to analyse and evaluate are key skills, the lack of which can have a detrimental impact on young people as they enter the workforce. After training with School Direct at Turton and establishing myself as a classroom teacher, I wanted a role that would allow me to work with new teachers who are having the same experiences as I did in my training year. Being a professional mentor allows me to train, support and celebrate with the future of this brilliant profession!'



'I started teaching after someone I worked with made an offhand comment along the lines of "You're really good at making things sound simple. You should be a teacher." So I worked as a teaching assistant to see if it was the right path to take. It was. I loved every minute of my time with the students and I've loved it every since.

I got involved in mentoring because I think it's important

to do everything we can to support the next generation of teachers. I've learnt so much from colleagues in my development

, and still do, so it's wonderful to

be able to

shape new teachers

and

guide them

on their journey. I really

appreciated that support during my formative years and working closely with new

teachers seems like the best way to

'pay back' that support

. '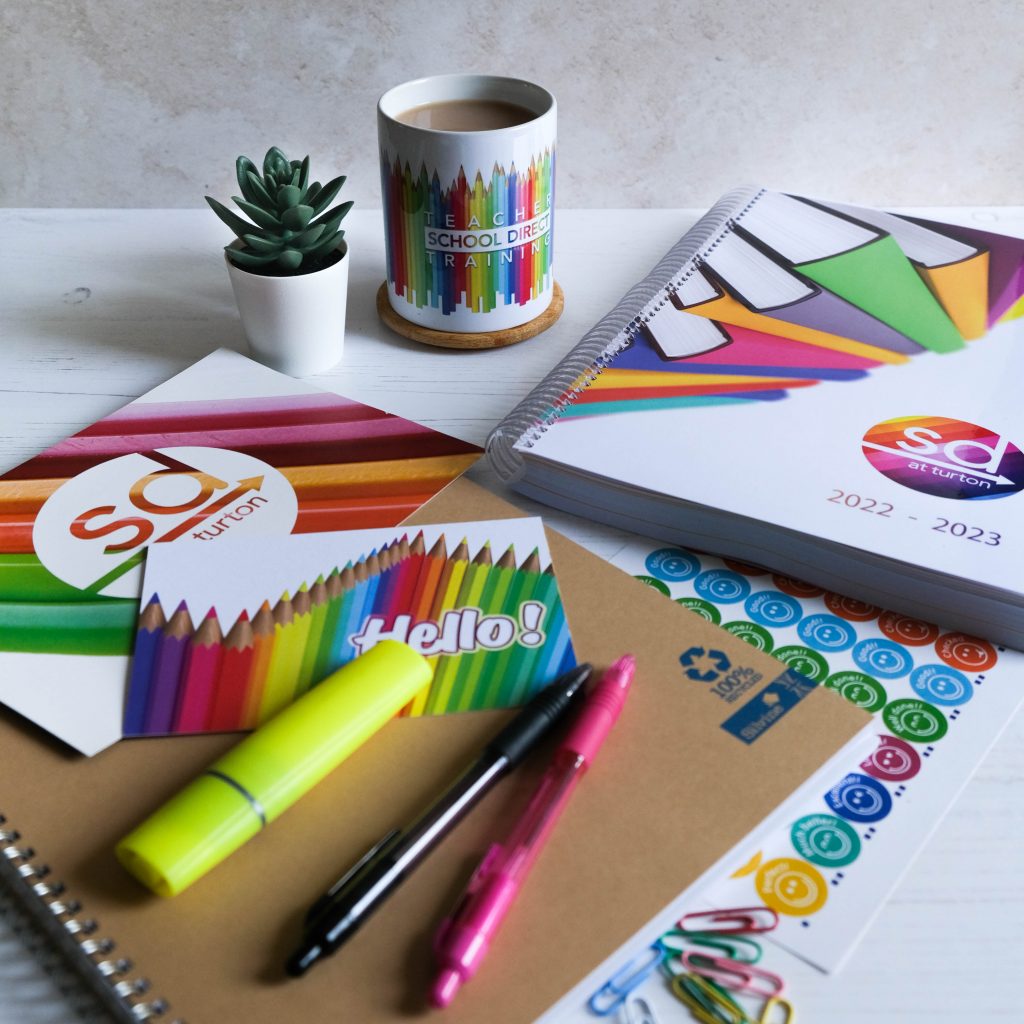 "Supportive and caring throughout the training year"
I would like to thank everyone on the SD at Turton team who have been so supportive and caring throughout this training year. At my home school, my mentor has been so wonderfully supportive and I could not have wished for a better mentor. I am extremely grateful for the amount of her own time she has dedicated to help me to complete my training successfully. I have had great support from all of the staff at Egerton School, with many taking time to answer my questions about their specific subjects and giving advice on teaching in general. Similarly, at St John's school I felt extremely welcomed and supported by all of the staff and my mentor, My second mentor also gave me a wonderful insight into teaching Year One. Thank you very much for everything this year!
''LJMU has developed a network of strong relationships with partner schools. Communication between the different partners is a strength. Furthermore, all partners display a strong commitment to supporting the ambition of social justice for all pupils. Trainees buy into this vision. They understand the importance of breaking down barriers to learning for disadvantaged pupils and for pupils with SEND. They also learn about ensuring equality of opportunity for all pupils in their care.'
Ofsted, 2023.
Our North West Partnership Schools
We are incredibly fortunate to work with a variety of successful partnership schools in Bolton and across the North West. Our partnerships are forever expanding, each year! Below is a list of current schools we work with:

Egerton Community Primary School

Belmont Community Primary School

High Lawn Primary and Nursery School

Sharples Community Primary School

Brandwood Primary School

The Oaks Primary School

St. John The Evangelist RC Primary School

Eagley Infant School

Lever Edge Primary Academy

Beaumont Primary School
Turton School (Lead School)

Canon Slade School

Sharples School

Ladybridge High School

Rumworth School

Westhoughton High School

Woodhey High School

St. Michael's CE High School

St. Christopher's CE High School

Droylsden Academy

Maricourt Catholic High School

Millfield High School

St. Christopher's CofE High School
Student Teacher Reflections 2023
Before I started the training year, I set a target to enhance my subject knowledge in all subjects as it had been a long time since I was taught these.
The training sessions improved my knowledge and impacted my teaching positively by bringing new ideas to the classroom and giving students the opportunity to access material in and beyond the curriculum.

This has been my biggest achievement!
The training year has been a really positive experience and I feel fully prepared to be an ECT! This was through the help of the university and SD at Turton team. My Liaison Tutor was there for me without being overbearing and worked with my communication and independent learning style.
Equally, when I needed advice and further assistance, the team where on hand immediately and where informative and supportive.

I have been given one to one coaching and direct feedback throughout the entire process of applying for a job. I have been able to approach all professionals involved with the programme to support me in getting a permanent teaching role in September.





If you want more information about our programme, feel free to email the team at sd@turton.uk.com,
or call us on 01204 333233, ext. 6218


School Direct at Turton
Turton High School
Bromley Cross Road
Bolton
BL7 9LT